Enterprise SEO
SEO with a Strategic Scope!

FEATURES
The term Enterprise SEO has no clearly defined industry definition. However, here at Rize we tend to categorize an SEO project as Enterprise Level if it combines multiple levels of complexity. These levels could include any number of the features including number of website pages, number of products or services being marketed, and/or markets being targeted. Here are some of the features that determine our Enterprise SEO solutions. 
Each Enterprise Level SEO program is custom developed specifically for your business and goals. To get started please contact us below.
STRATEGIC GOALS
Most SEO programs and plans follow a preset plan or formula to achieve a set of predefined goals. Enterprise SEO is very different in that it starts by developing a plan with a end goal and then building a strategy on how to best achieve that goal. This adds a lot of complexity and functions to our average Enterprise SEO plans.
DATA COLLECTION
Enterprise SEO thrives on data and processing this data to build clear picture of the market environment that we are targeting. This requires a lot of data collection from many different areas. This data includes details about your competitors, other similar products and services, and even cultural differences between market areas. We then take all this data and carefully process and analyze to build an actionable strategy.
ACTIONABLE DATA
Following the data collection process, we have to carefully analyze and determine what to do with this data. Some of the data will provide useful insights, other data will provide information that we can act on. This actionable data can be used to set realistic goals, modify a process, change direction, or to reinforce that the program is heading on the correct direction. Anyone can collect data, knowing what to do with it is what sets Digital Rize apart.
SCALABLILITY
Because so many Enterprise Level websites are large and complex, the SEO program needs to be able to manage and automate many of the regular ongoing SEO tasks. Implementing even a minor update across 500 pages would take days for a person to do it by hand, but with the right platform and tools, this can be implemented in just hours. 
REPEATABILITY
In order to reduce the complexity of an Enterprise Level SEO program, we develop our processes so that they are easily repeatable across all the website pages and sub-domains. Lots of the tools we use include automation and continuous monitoring.
PROGRESSABILITY
Just as important as being able to scale and repeat your processes, we are also able to closely monitor the progress of your Enterprise Level SEO program. With our carefully assembled monthly reports, we cover all aspects of how the program is progressing.
ENTERPRISE TOOLS
The key to a successful program is based in part on using the right tools for the job. Here are Digital Rize we have over a dozen professional SEO tools at our disposal to ensure that no matter what the task at hand is, we have the ability to use the best tools and methods to accomplish it quickly and correctly.
TARGETED MARKETS
Our Enterprise Level SEO programs include the use of multiple channels to target each market. These often include everything from optimization for content and organic rankings as well as technical site optimization and paid advertisement campaigns. By targeting each market from multiple angles, we are able to achieve the growth that our customers are looking for.
PROGRAM MANAGEMENT
The more complex a task or program is, the easier it is for oversights and mistakes to take place. As part of our Enterprise Level SEO programs, we have a dedicated program manager assigned to your program to ensure that everything runs smoothly and stays on track.
ENTERPRISE SEO QUOTE REQUEST
If your website and/or market search engine optimization requirements are extensive and complex, please fill out the form below to request a custom quote.
Please be as detailed and correct as possible. This will help us to determine what services would work best for your application. Once we start with the quote, we will need to setup a call to review all the details. Depending on the requirements, a consultation fee maybe required.
CONSULTATION REQUEST
If you prefer to schedule a detailed consultation that includes an indepth evaluation of your website and market place to learn more what an Enterprise SEO program could do for your company, please fill out this schedule form to setup an appointment.
[bookly-form service_id="1" hide="categories,staff_members"]
Enterprise SEO Frequently Asked Questions
What is Strategic Planning?
Enterprise SEO takes a different approach to standard SEO in that it often incorporates multiple markets stretching across states, or even nations and languages. We start by careful analyzing the products or services being marketed, the targeted markets, and the goals before we develop a detailed strategy and game plan. With a strategic plan in place, we constantly monitor our progress to ensure that we meet the goals set.
How Does Content Integrate?
Content is what makes the internet go around. Good and relevant content is also what pushes up rankings. The bigger and more complex a company's website and products are, the more important it is to have a comprehensive content strategy that is integrated across all platforms to deliver a unified and authoritative message boosting website rankings. We help develop and implement this content strategy.
Does my company need Enterprise SEO?
There are many different reasons that dictate an Enterprise Level SEO program. If your needs include any or all of the following, they you are a definite candidate for an Enterprise Level SEO program:
Your website is large and complex, 100+ pages.
You market your products to many different markets
You sell your products directly nationally or even internationally.
Your clients are culturally very different and they speak many languages
How does Enterprise SEO differ from regular SEO?
Enterprise SEO is very similar to regular SEO, they are actually both the same when it comes to fundamentals. The main differences are in the scope, strategy and execution.
Why Should you Monitor the Market?
Understanding your market place is key to a successful Enterprise SEO program. This starts with extensive research into the lay of the land, which competitors are doing investing in online marketing, what works with your target market, which keywords and key phrases perform best, etc… Once the market has been fully analyzed and understood, we constantly monitor it to ensure that our strategic plan stays on course with our goals.
WHAT DETERMINES SEO AS ENTERPRISE LEVEL?
Enterprise SEO is determined by its complexity. This complexity could be compromised by any combination of website pages, number of products or services, size of markets targeted, number of market types, or even the level of authority of the website.
How should I get started?
The best way to get started is to fill out the above form and fill out an Enterprise SEO Evaluation request. After which we will put together a proposal. As part of our evaluation process, we will have a conference call and multiple other communications to ensure that we both fully understand how this program will work.
What should my expectations be?
All SEO programs take time, sometimes a long time before results start to become visible. As the first part of each Enterprise SEO program, we discuss the goals with our clients, and then develop goals that set realistic expectations.
How quickly can I expect results?
With an Enterprise Level SEO program, we usually start to see results between the 6 to 9-month stage. Our Enterprise SEO programs require a minimum 12 months agreement, though the vast majority of our clients extent this to 2 or more years. For some customers we have experienced up to 400% growth over a 2-year program, while other more establish customers have seen up to 250% growth over several years. The more established the more effort and time is required to experience significant growth. With any SEO program, there is no instant gratification.  If you are looking for a program to generate leads quickly, check out our SEM programs.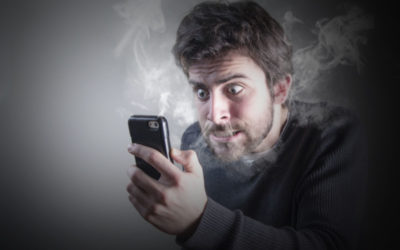 The Review: #@%&#! How you respond makes a world of difference! The Facts Research shows that most consumers do research before the purchase process and often trust online reviews, making these reviews key to your business' success. 88% of consumers trust online...
read more